H. Cross Company is proud to announce that our Quality Management System has been Certified to ISO 9001:2008 in February of this year. Working with CORE Business Solutions and using Perry Johnson as our Registrar we were audited and met all requirements needed to achieve this goal. It is a further evidence of H. Cross Company's commitment to its customers and our company's needs and goals.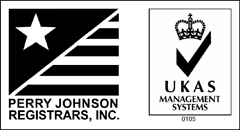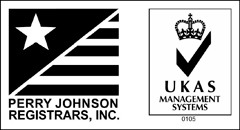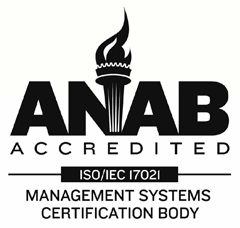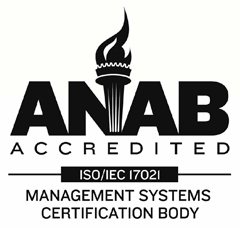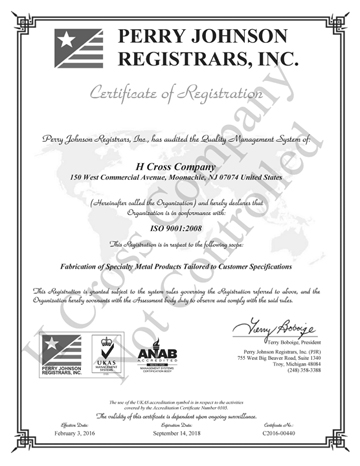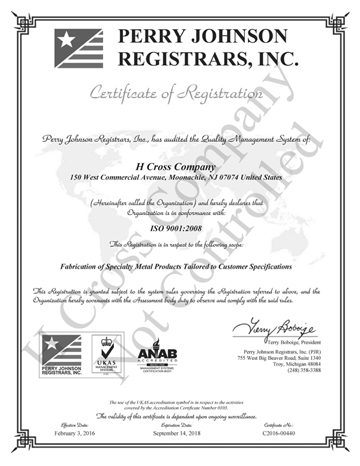 In 2015, H. Cross Company will be going from an ISO Compliant Quality System to ISO 9001:2008 Registered and will upgrade to the 2015 ISO Standards once it becomes possible to do so.
A Letter from Our President
H. Cross Company is proud to announce the Anniversary of our 75th year in business serving the metals industry with tight tolerance refractory and most other metals and alloys for your exacting material applications.
We would like to announce the addition of two new high temperature strand furnaces that have been brought online in our heat treating department which will allow us superior heat zone temperature control along with much longer heat zones improving overall throughput speed by up to 40% versus our older design furnaces which they are replacing.
We have also totally rebuilt our 1650 C high temperature furnace from the inside out with all new elements, cabling, elements, connections and heat zone fire bricks.
Additionally we will be upgrading another furnace to enhance our annealing capabilities for rhenium and moly rhenium production. We will again increase throughput dropping delivery times once it goes online the end of August with picture to follow once it does.
We have invested over $100,000 in equipment upgrades in the past year to increase our heat treating capacity, heat treating control and throughput speeds. We are hoping to replace all remaining furnaces with new models during the next three years further enhancing our ability to deliver product in rapid fashion made to your ever more exacting specifications. Whether it be for electronic, military, medical, lighting or any other application H. Cross Company is the supplier to meet your needs.
H. Cross Company is proud to introduce our new 31,500 square foot facility at 150 West Commercial Avenue, Moonachie, NJ 07074. Photos of our newly refurbished facility and associated equipment can be seen on Our Facility page. Most of the equipment was totally refurbished upon moving and we also are introducing our new Heat treating furnace which will expand our capabilities in the Rhenium and Moly Rhenium production area.This move has allowed us to better respond to customer requests and enhance our productivity by eliminating redundant systems and streamlining our manufacturing capabilities. We decided it was time to take the company to the next level and help move forward in serving your needs even after 75 years in business.
We will have photos and other items listed as they become available but we plan on using this increased space to add newer and more equipment especially in heat treating, testing and production cutting. We look forward to working with you all in the future and we will do our best to ensure the great service H. Cross Company has always been known for. Our new and enhanced facility location and contact numbers are listed below.
Sincerely,
—Edward McClary
President & CEO
H. Cross Company
150 West Commercial Avenue
Moonachie, NJ 07074
201-964-9380  phn
201-964-9385  fax