These materials are fabricated for uses such as Spectrographic filaments, Medical devices, Electronic equipment, Defense systems, Halogen, Short Arc, Metal Halide Lighting and many others. We were the first company capable of rolling tungsten and molybdenum ribbon.
Throughout the years, using superior research and development by our engineering staff, we are consistently improving upon our processes and remain the state of the art in the field. We are often accomplishing what was thought of as impossible.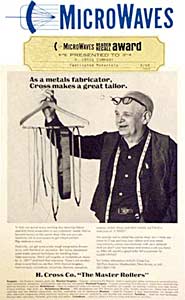 Company Firsts
First to roll tungsten and molybdenum ribbons
First and is the only one to roll tungsten, molybdenum, rhenium, tantalum and other metals to a tolerance of .00005"
First and only firm to roll tungsten to .001" and molybdenum to .0005"
First and only firm to roll rhenium, rhenium tungsten and tungsten below .001" on a production basis
First to make elliptically shaped ribbons for the lamp seal industry
We tailor all projects to our customers' exact specifications. Nothing in our $1,000,000 dollar plus raw materials inventory is produced for stock. We manufacture our products to your required specifications only and not to industry standards. We will produce the exact size you request and will never require you to compromise and buy a mass-produced product. No matter how difficult your requirements, H Cross Company is THE international source ready to solve your problems and manufacture the EXACT product required for your production.
H Cross Company's new manufacturing plant (see our News page for an update on our facilities) is thoroughly equipped with the finest machinery and equipment. Our plant is manned by highly trained technicians producing the highest quality precision fabricated metals anywhere in the world. Our average length of employment for shop floor personnel is 12 years + with a total turnover of less than 1 percent. Our department managers are promoted from within the company and have a combined 80 + years experience, much of it gained on the shop floor solving your most perplexing problems quickly and effectively.
H Cross Company is the leading source for all your material needs with standard, custom or customer materials. Whether your needs are small or large we can help you meet your customers demands for the best quality product.